PP Hollow Sheet is made of Polypropylene (PP) copolymer, also known under the names of corrugated Sheet, Corflute , Sunpack Sheet , cartonplast sheet , Correx, Corex , Coroplast , Fluteboard, Danpla, Twin Wall Sheet ,Core Flute, Corriboard, Polyflute and so on .It is a lightweight (hollow structure), non-toxic, waterproof, shockproof, long lifespan, corrosion preventive material. Compared with cardboard, It has the advantage of waterproof, colorfast and corrosion preventive.it is a idea materials for packaging, advertising, construction and agriculture uses.

Specificaiton:

Material: Polypropylene;
Thickness range from 2-15mm
Weight: 300-2000g/m2
Max Width: 1650mm
Length: Customization
Color : White,Black,Red ,Blue,Yellow and available in all custom colors
Surface : Smooth
Available in sheets or rolls, cut to size.


Features:

Light Weight and High tensile strength
Moisture resistance.
High tensile strength
Unaffected by water, oil and chemicals
Ideal for disposable and reusable purposes
Dust free and clean
Environmental friendly, non-toxic, recyclable, washable
Easy to fabricate, custom-made cut shape
Excellent surface for paints and inks
durability and weather resistant



Available in various grades, such as corona treated, anti-static, conductive.UV Resistant.
Potential user industries for PP hollow board would be

1. Farm produce-tomatoes,carrots,mushrooms,fruit-in the form of tote boxes or crates
2. Horticulture-orchids and other expensive garden products-tote boxes, crates
3. Agriculture products-Tea,coffee,tobacco,foodgrain-unit/bulk packs
4. Electrical & Electronic appliances-sensitive electrical equipment, measuring equipment for radio and electronic industry-unit/bulk packs, tote boxes
5. Glassware & potteries-fragile items-unit/bulk packs
6. Auto ancillary spare parts and components-unit/bulk packs
7. Food items such as baby food, milk powder, biscuits and chocolates-unit/bulk packs
8. Beverages inclusive of beers, liquors, soft carbonated and non-carbonated drinks-tote boxes, crates, carry-home packs.
9. Frozen sea-food and meat export packs-unit/bulk packs
10. Pharmaceuticals and other steam sterilised products-unit/bulk packs
11. Cosmetics-unit packs as well as point of sale display items
12. Automobile battery cases-unit/bulk packs
13. Office stationery- folders
14. Advertisement and Printing



About us
Jiangsu Sunplas Co., Ltd established in 2003, is one of the market leader in producing series of ABS sheet, HIPS sheet, PP hollow sheet, PVC sheet and functional composite sheets. We own 5 advanced co-extrusion production lines with an annual output over 18,000 tons. The products are exported to different countries all over the world, such as France, UK, Germany, USA and Africa countries. Our representative customers are SAMSUNG, SHARP, HAIER, ELECTROLUX, SIEMENS, BENZ, SKYWORTH.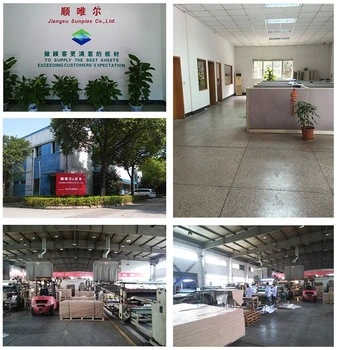 Our company have following advantages:
Fast delivery: production can be finished with 14 days according to customer's requirement.
Quality guarantee: company has a perfect quality assurance system. Focus on raw material inspection, production process inspection, finished production inspection to make sure products meet customer's requirement. All of our products are environment-friendly, and pass the certificates of SGS and other inspection institution.
We own rich experience of professional sales team and after-sale service department.
Research and development ability: We have the ability to develop our own products, can provide functional plastic sheet as you requested.
Multi services: OEM and ODM service.
Location: near shanghai, 1 hour to shanghai port, 40 minutes to shanghai airport, 30 minutes to shanghai train station.
Being honest and focusing on doing things is our principle. We provide the best sheets exceeding customer's expectation.

Therefore, SUNPLAS is your best choice.

We sincerely invite you to create a bright future together with us.